Report: 
Onstage Systems deployed their new T10a robotic line source system for the Revolver Stage at this year's edition of the So What?! Music Festival. The stage, erected on the playing field of Choctaw Stadium, hosted a slew of well-known hardcore and metalcore acts including Comeback Kid, Attack Attack!, The Fall of Troy, Misery Signals, and He Is Legend, to name a few. 
Alliance Partner:
Onstage Systems (Dallas, TX) 
Crewmembers: 
Michelle Strahm, Systems Engineer 
Jeff Michnal, FOH
David Vega, Monitor Technician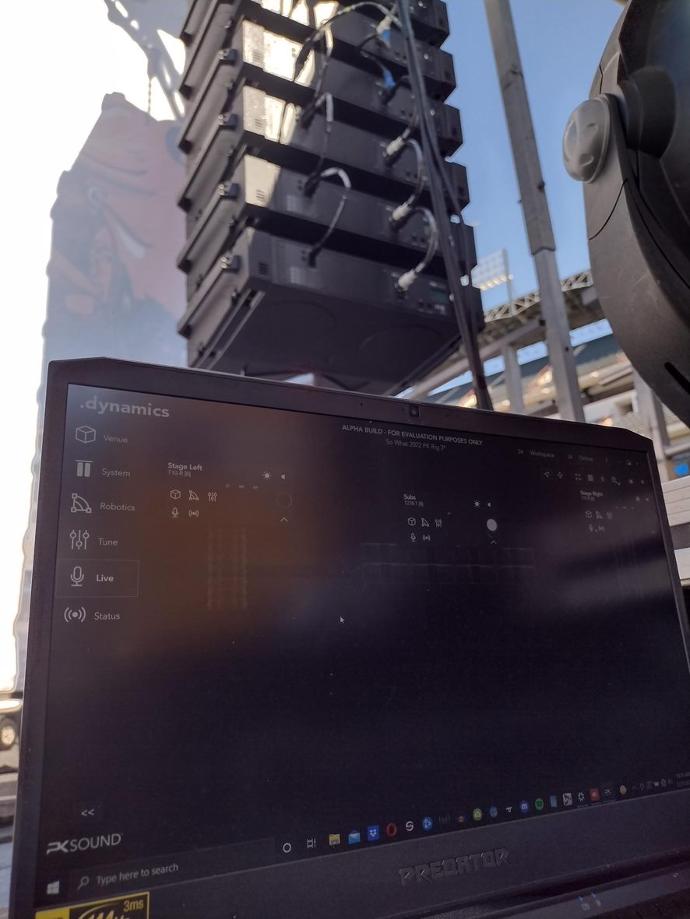 Systems Engineer Michelle Strahm, who oversaw the deployment, admits she's been eager to put the PK system through its paces. "I'm really into technology and always thought it'd be cool to have a moving line array where you could change its dispersion to fit the venue," she explains, "so obviously I was excited that Onstage had invested in PK." 
With Onstage being one of the Alpha testing partners for PK's incoming .dynamics software platform, Strahm drove the system with one of its first-ever real-world deployments and found it intuitive and easy to learn – especially considering she hasn't had much experience with other system design and simulation applications. 
Specifically, she found organizing and manipulating sources within Module Groups to be simple and effective; liked being able to flash the LED bars and robotically move the waveguides on her real-world sources to identify and match them to those in her simulation; found the Mechanical Summary module useful for optimizing rigging on the Stageline; and generally found the GUI to be logical and straightforward. 
On the topic of rigging, she also lit up when enthusing about T10's Auto-Align rigging system. "One pin, one hole. Very awesome," she says. "With other PAs, you've got multiple holes and pins to work with, so it takes more time to get your system in the air."
As a .dynamics Alpha Testing Partner, Strahm relayed valuable feedback to PK's Brand and Software Engineering teams about her experiences. PK's Darryl Ross, Global Education and Applications Support, had previously conducted T10 System Owner training for a team of Onstage technicians including Strahm and communicated with her remotely throughout the weekend. Global Service Support lead Rory Stewart has since engaged Onstage's service technicians for any follow-up needs.
Onstage also commissioned FOH engineer Jeff Michnal to mix artists that didn't travel with an engineer, and Michnal shared remarks on a similarly positive experience: "The T10 / T218 system did remarkably well for a full weekend of young metal bands. The subs were very solid and the robotics made an easy task of vertical and horizontal focus to optimize coverage in the venue."
The week following the festival, Strahm and her colleagues were all smiles – as were the guest engineers that took a spot behind the Revolver Stage's console. "We heard a lot of positive feedback," Strahm says in closing. "We were right next to the main stage inside the stadium, which had 12 [large-format cabinets] per side compared to our eight T10s, and we definitely held our own."